This variant is currently sold out.
📖 Story
Yao women held one of the most sought-after hair growth secret, the remedy to grow long, strong and healthy hair. Our Hair growth Serum contains their recipe. It's been developed using the Fermented Rice Water for Hair Growth.
👩🏽‍⚕️ Benefits
Prevents hair loss
Promote hair growth
 ➡️ Testimonials
👆 Audrey literally DOUBLED the length of her hair in a little over 4 months...
👆 In 9 months Jea's hair grew an amazing 13.2"
👆 
In 3 months Jennifer grew her hair 7.8 inches


 ➡️ New Testimonials
✔ Easy to use
Apply 5-10 drops of serum onto your hair and gently massage 1 to 7 times per week (before shampoo).

Distribute with fingertips from mid-length to ends,

Allow time for hair serum to fully absorb, up to 5 minutes,

Shampoo using your regular products.
✔ Safe ingredients
Silicone Free
Cruelty Free 

 

 

🐾

Suitable for all hair types 👩🏾‍🤝‍👩🏼
Rated 100/100 by Yuka.io
Ingredients: Ginger extract, Ginseng extract, Rice Water, flower root, grape seed oil, glycerin, carbohydrates, propylene glycol, methacrylic acid, rose oil.
✔ Suitable for

any hair type
straight,
wavy,
curly,
kinky
POPI

HAIR 
About us
As women, we often feel great discomfort and insecurity when it comes to hair loss, split ends, or anything going wrong with the crown of hair on our heads.
So, when we discovered the secrets of the Rapunzels and how they are able to grow their hair using fermented rice water, we had to get our hands on this recipe! 
Not only for those of us struggling with hair loss, but the women that are just dying to have their long locks grow past their butt, or their knees, or even hit the floor. 
Simply put, we love long hair! 
And we're determined to bring a legitimate tool to the market so that everyone can experience the joy of hair that grows out of control.
🫶 Our guarantee
Our philosophy is to ensure that beauty and health go hand in hand which is why we made sure every ingredient is safe, natural, and does not cause any side effects.
🚚 Free Shipping
Due to high demand, please allow at least 2-4 weeks for delivery.
🌎 Insured & Trackable Worldwide Shipping
Your tracking number will be sent to you after 3-5 processing days.
💞 Love it or get a 100% refund
We're absolutely confident that you'll love this product. If you don't, just return it for a FULL refund! No questions asked!
👩🏽‍⚖️ Disclaimer
Results may vary from person to person. Our service is not intended to diagnose, treat, cure, or prevent any disease and does not constitute medical advice. Rice water has been used for centuries as a natural hair treatment and is thought to have many benefits for the hair and scalp. However, it's important to note that everyone's hair is different, and what works for one person may not work for another.
Customer Reviews
09/18/2022
Ashley

Thailand
Ashley
First of all, I purchased the product because I was sold on the product's ingredients. I am glad that I made this purchase. I have only been using it for a short while, but I have noticed some improvement in the thickness of my baby fine hair. I also found a few strands of new hair growth! The product is not greasy. The scent is very mild. I used more than a few drops in targeted thinning areas. I leave it on my damp hair after showering at night. It looks slick once you apply it, but it dries up naturally after a while with no residue. I would highly recommend!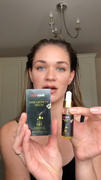 09/18/2022
Christie

Thailand
Very impressed in just a week
I've had this product for just about a week. I don't know if it was wishful thinking, but I swear I could notice a difference in a few days. I'm 40 years old with ****** hair, never dyed and really never used any styling products except for biosilk on occasion. It was always thick and beautiful, until earlier this year. I noticed a lot of hair falling out in the shower and it just became so much thinner. Just 2 weeks ago I noticed the thinning so much that I started becoming self conscious. My hair wasn't responding well to the Pantene conditioner I've used my whole life, which has never failed me. People used to tell me my hair looked like it was right out of a Pantene commercial. Now over past year, it's been weighing my hair down, making it look and feel greasy, and hard to style. After trying this product, I feel like my hair is coming back to life. I can touch my head and actual feel hair again rather than my skull. I had this brilliant idea to condition before I shampoo so that my hair is smooth and can run a comb through, but not left greasy. I follow that every day and as soon as I get out of the shower and remove my hair towel from my head, I apply the serum as instructed. I squeeze a few pumps into my hand, and rub it into my scalp in circular motions with my fingertips before running some through the rest of my hair. Then I wrap my hair in a simple bun to keep it wet for a bit longer. I'm looking forward to seeing the results with continued use.
09/18/2022
Emily a.

Thailand
07/04/2022
Brittany

United States
Best growth serum I've used
I'ces used many serums before and this gave me the most length and healthy scalp . It has a stronger scent but it's best to use at night before sleep . I used it 2x a month after each wash ( I wash my hair every 2 weeks ) . It took a full 2 months of consistent use , but my hair gained so much length and at the hair salon stylists kept asking what I use for my hair to be long thick and healthy . I also noticed I had less split ends . Definitely would recommend, but it takes consistency.

06/17/2022
Vametrius D.

United States
Omg it is good like damn
My overall experience was the ways it smell