Natural Benefits:
Strengthens • Rejuvenates • Renews • Increases Natural Shine • Repairs •
How to use:
Apply 5-10 drops of serum onto your hair and gently massage 1 to 7 times per week (before shampoo).

Distribute with fingertips from mid-length to ends,

Allow time for hair serum to fully absorb, up to 5 minutes,

Shampoo using your regular products.
Ingredients:
Silicone Free
Cruelty Free 

 

🐾

Suitable for all hair types 👩🏾‍🤝‍👩🏼
Rated 100/100 by Yuka.io
Ingredients: Ginger extract, ginseng extract, rice water, flower root, grape seed oil, glycerin, carbohydrates, propylene glycol, methacrylic acid, rose oil.

About us:
As women, we often feel great discomfort and insecurity when it comes to hair loss, split ends, or anything going wrong with the crown of hair on our heads.
So, when we discovered the secrets of the Yao Women in China and how they are able to grow their hair using plain old rice, we had to get our hands on this recipe! 
Not only for those of us struggling with hair loss, but the women that are just dying to have their long locks grow past their butt, or their knees, or even hit the floor. 
Simply put, we love long hair! 
And we're determined to bring a legitimate tool to the market so that everyone can experience the joy of hair that grows out of control.
Our guarantee:
Our philosophy is to ensure that beauty and health go hand in hand which is why we made sure every ingredient is safe, natural, and does not cause any side effects.
This serum is perfect for any hair type.
Customer Reviews
07/04/2022
Brittany

United States
Best growth serum I've used
I'ces used many serums before and this gave me the most length and healthy scalp . It has a stronger scent but it's best to use at night before sleep . I used it 2x a month after each wash ( I wash my hair every 2 weeks ) . It took a full 2 months of consistent use , but my hair gained so much length and at the hair salon stylists kept asking what I use for my hair to be long thick and healthy . I also noticed I had less split ends . Definitely would recommend, but it takes consistency.

Omg it is good like damn
My overall experience was the ways it smell
So far it's good
So far it's good. I got it in the mail last night and tried it out. It smells good and it doesn't make my hair greasy at all. The smell of it reminds me of fruit loops cereal. They took almost 2 years in December though...
Popi Hair really works!!!!!
I have only applied Popi Hair twice in the past 2-3 months, and I take one 5000mcg pill of biotin a day, and my bald spots are growing back. It really is magic!!!! I have used biotin pills before and they make my hair grow faster, but it wasn't until I applied Popi Hair, that my bald spot miraculously grew back. I have been suffering from thinning hair and patches of my scalp showing, for years. Popi Hair is filling in my sparse patches. It is magic. The rest of my hair has also grown about 3 inches, very fast. It has pretty much stayed the same length for a while, until I used Popi Hair.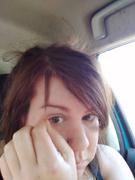 pretty great
so far I'm loving it yeah sure it takes awhile to see any results but I've had issues for years and the thought of waiting it out for my hair to grow back say 7+ years was a nightmare and I was losing it at the thought of having to wait that long for results of any kind to happen and couldn't take it nor stand it anymore. see after I hit a dark time in my life I was under so much stress and depression that I didn't care for my hair properly like I should've but then again every girl is sorta the same if they had gone through some dark times as me. I wont go into details for privacy reasons but lets just say it was bad really bad mentally and emotionally. Once I started to get better mentally and emotionally I started to take better care of my hair health. And so long story short I came across this site through a link as a add on youtube and thought ok what the **** and **** a look after watching the video for the add. And thought to myself well I aint got nothing to lose except things not working out with results and going back to the drawing bored and or back to square one so I **** a gamble and bought some still on my first bottle and will start the second one after the first is all gone smells amazing i read the ingredients and saw nothing that would make it smell like this but to me at least it smells like lemon drop candy which is nice. I also put a few drops in my shampoo and conditioner as well that way I can get it into my scalp another way to. wish me luck I need all the luck I can get.